Branches
LIFTING ONLINE (PTY) LTD


1 of 2
INTERNATIONAL DESIGN STANDARDS
Lifting Machine and Lifting Tackle
Cranes and Lifting Suspended Equipment, Support Documentation and Training: SANS 10307
Electric Chain Hoists: JIS B 8815/EN
Pneumatic Chain Hoists: SANS 1638:2008
Manual Chain Blocks: SANS 1594:2007
Manual Lever Blocks: SANS 1636:2007
Inspection, Examination and testing of manually operated Chain Blocks and Lever Blocks in use: SANS 500:2009
Short Link Chain for Lifting Applications:SANS 50818-4:2007, SANS 1592:2005
Jib Cranes: SANS 1599/1
Load Testing of Over Head Cranes: SANS 10375
Chain: SANS 189:2010, SANS ISO 7592, SANS ISO 3077
Chain Slings, Welded Assembly, GR 8: SANS ISO 4778
Chain Slings, Instant Assembly, Gr 8: SANS ISO 7593, EN 818-1&4
Components for Chain Slings, GR 8: EN 1677-1&4, SANS 8539:2010
Webbing Slings-Endless Type: EN 1492-2:2000, SANS 94-2:2003
Webbing Slings-Flat Type: EN 1492-1:2000 SANS 94-1:2003
Steel Wire Rope Slings: SANS 2408:2005 /ISO 2408:2004, EN 13155
More Detail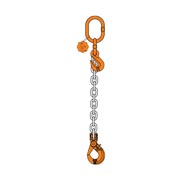 Slinging Safety
The correct use of chain slings results in safety for all employees and economical sling life.
Safe Slinging
Unsafe slinging poses risks,not only to the load and anything in its path if it fails, but also to the crane or lifting machine and the structure from which it is suspended. The sudden release of a load can result in a catastrophic chain of events resulting in loss of life ore serious injury and damage to property. (This means You and Your property)


Important
It is important that all users of lifting tackle be trained in the correct and safe use of lifting tackle. To avoid the possibility of sling failures due to improper handling we offer the following suggestions:


Causes of lifting accidents:
Lack of knowledge, training and supervision
Incorrect use or choice of equipment
Failure to establish the mass of the load
Failure to establish the stability of the load
Failure to inspect equipment for damage before use
Failure to conduct statutory inspections and maintenance
Using untested or home-made lifting tackle
Failure to consult rigging charts, i.e. - important of angles, choker hitches, etc.
More Detail
View Gallery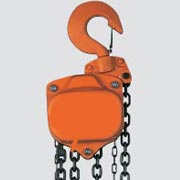 Extracts of the OHS Act No. 85 of 1993
Driven Machinery Regulations 2015 Act 18 Sub 10
No user may use or allow the use of any lifting tackle unless –
every item of lifting tackle is well constructed of sound material, is strong enough, is free from defects and is constructed in accordance with a generally accepted technical standard
every lifting assembly consisting of different items of lifting tackle is conspicuously and clearly marked with traceable identification particulars and the safe working load that it is designed to lift with safety.
the ropes, chains or woven webbing have a factor of safety with respect to the safe working load they are designed to lift; the safety factor being
10 for natural -fibre ropes;
seven for man -made fibre ropes or woven webbing;
six for steel -wire ropes, except for double -part spliced endless sling legs and double -part endless grommet sling legs made from steel -wire rope, in which case the factor of safety shall be at least eight;
five for steel chains; and
four for high -tensile or alloy steel chains:
provided that when the load is equally shared by two or more ropes or chains the factor of safety may be calculated in accordance with the sum of the breaking strengths taking into consideration the angle of loading;
More Detail
View Gallery